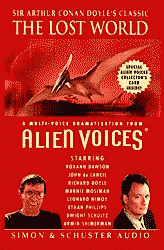 About "THE LOST WORLD"
Sir Arthur Conan Doyle is perhaps best known for his internationally famous Sherlock Holmes mysteries. The success of the Baker Street sleuth (whose massive popularity compelled Doyle to write adventures well past his interest in doing so) early eclipsed that of another Doyle creation, Professor George Edward Challenger.
Challenger discovered his lost world in 1911, the same year that Doyle's fans discovered the rambunctious professor in the pages of Strand's Magazine where the work was first serialized. It was later published as a complete volume in 1912. Immediately, the movies became interested in the tale of a party of explorers journeying up the Amazon River in Brazil to investigate dinosaurs living alongside humans atop an isolated jungle plateau. It was not until 1925, however, that the movie "The Lost World" was released by First National Pictures. It starred Wallace Beery as Challenger and Lewis Stone as Lord John Roxton. The real stars of the film, though, were the animated dinosaurs by Willis O'Brien (who would later create King Kong).
The 1925, "The Lost World" sticks remarkably close to the novel, albeit finding a way to include a woman (Bessie Love) in this all-male story. A true period piece (right down to its racism), this classic has been restored and issued on a sparkling Lumivision laserdisc that includes scenes long thought lost.
In 1960, producer/director Irwin Allen ("The Towering Inferno") made an updated version of "The Lost World." This time, Challenger was played by Claude Rains, Roxton by Michael Rennie, and the dinosaurs by lizards. Also in the cast were Jill St. John, Fernando Lamas, Richard Haydn and David Hedison. It is not presently available on home video.
In preparing the Alien Voices event that was captured by Simon & Schuster Audio, director Leonard Nimoy and writers Nat Segaloff and John de Lancie took their production clues from the original book. Like the author, this "Lost World" stresses Doyle's theory of evolution and cultural imperialism. It also explores the subplot of ape-men and Amazon Indians fighting the battle for the Lost World. Additionally, Alien Voces added a twist that they feel reflects another kind of evolution: Professor Summerlee is ...well, you'll have to hear for ourself.
THE MAKING "THE LOST WORLD"
Alien Voices' first two productions for Simon & Schuster Audio -- H.G. Wells' "The Time Machine" and Jules Verne's "Journey to the Center of the Earth" -- were so well-received that, in early 1997, the go-ahead was given for a third title: Sir Arthur Conan Doyle's "The Lost World."
Always eager for a challenge, this time Alien Voices took a special approach and recorded "The Lost World" at a one-time-only live performance at Creation Entertainment's Grand Slam V Star TrekŪ Convention in Pasadena, California on March 22 , 1997. The extraordinarily complex production entailed over 250 separate music and effects cues, including rehearsed participation by the fan audience. The 16-track digital master was then "sweetened" in post-production to preserve the thrill of a live s how while adding state-of-the-art studio polish.
In preparing this adaptation, director Leonard Nimoy and writers Nat Segaloff and John de Lancie took their cues from the 1912 book. Like the original, this production features tense encounters with dinosaurs in a primordial land fraught with danger. It also retains Doyle's sub-plot of ape-men engaged in a tribal war against Amazon Indians for dominance of the Lost World. Additionally, Alien Voices has included a few twists to make this audio voyage a journey you'll never forget!
In this fully dramatized adaptation of Sir Arthur Conan Doyle's classic, Alien Voices takes you on a journey into uncharted lands that bridge a dangerous past and a perilous present. The unpredictable Professor George Edward Challenger, feisty and combative as ever, leads an expedition deep into the Amazon jungle to gather evidence of dinosaurs living on a fabled Lost World. Once they get there, however, they find more than they bargained for. Caught in a violent struggle between two human species , our heroes stand poised to tip the balance of life on earth!
Recorded live in front of an audience of 1,000 fans, Alien Voices' production of "The Lost World" is an adventure in sound as well as a memorable ensemble performance by some of the most popular actors and actresses in all of science fiction.
---
You can order any of our titles, signed by Leonard Nimoy and John de Lancie. Click here! Order Signed Copies!
TO ORDER OUR SELECTIONS IMMEDIATELY from Amazon.com go to the appropriate link. Choose either the CD or the CASSETTE version of the title you want. Make sure to use your back arrow to come back here before ordering another title! Thank you for your order!
...Ask for Alien Voices®...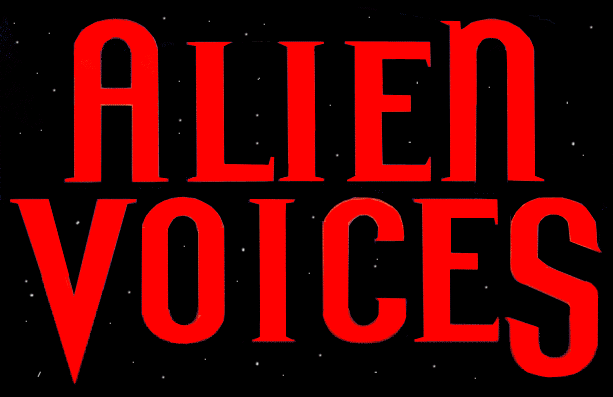 Back
---
Alien Voices® is a registered trademark of Alien Voices, Inc.
© Alien Voices, Inc. 1998