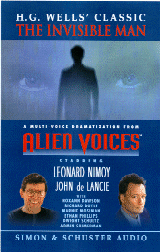 About "THE INVISIBLE MAN"
ALIEN VOICES MAKES H.G. WELLS' "THE INVISIBLE MAN" APPEAR
One of the most entertaining and provocative science fiction stories ever devised is H.G. Wells' The Invisible Man, which Alien Voices® has just brought to life as the latest in its acclaimed series of fully produced audio dramas.
Leonard Nimoy and John de Lancie top-line a "highly visible" cast of Star Trek® actors including (alphabetically) Susan Bay, Richard Doyle, Robert Ellenstein, Jerry Hardin, Marnie Mosiman, Kate Mulgrew, Ethan Phillips, Dwight Schultz and Nana Visitor. Directed by John de Lancie, featuring music by Peter Erskine, and with a script by de Lancie and Nat Segaloff, The Invisible Man is the most ambitious production in the continuing Alien Voices series from Simon & Schuster Audioworks®.
The premise of The Invisible Man is intriguing and enduring: what would it be like if you were utterly incapable of being seen? At first, of course, there would be the novelty of watching others without being noticed yourself.
But what would you do when the novelty wore off -- and the invisibility didn't? Would you become a prisoner of your own freedom? Or a madman bent on enslaving others? This is the quandary that faces Griffin, the young scientist who tempts Fate in an effort to explore the dark recesses of science and the human mind.
Wells explored the dark side of one of Mankind's most primal yearnings with a light touch which becomes more ominous as the story weaves its spell. Will Griffin find his way back? Whom will he take with him? And how much of his soul will he leave behind?
The Invisible Man was published in 1897. The year is significant, for it is at the center of the Age of Invention, that period of wonderment when the world believed that science could cure all its ills. As the transparent existence of the Invisible Man reveals, the achievements of science are worthless without a human mind that can use them wisely.
Much of the current popularity of The Invisible Man is drawn from the immensely successful 1933 film adaptation directed by James Whale ("Frankenstein," "Showboat"). Introducing Claude Rains as the hapless Griffin and Gloria Stuart as the woman in his tragic life (yes, she's the same Gloria Stuart who was Oscar®-nominated for her performance as "Rose Dawson" in James Cameron's 1997 "Titanic"!). The film featured ground-breaking optical effects and a giddy sense of humor that has endeared it to audiences for six decades.
THE MAKING OF "THE INVISIBLE MAN"
Alien Voices has given the classic adventure a new twist in its new, all-out audio production. Based upon indications that Wells himself made in his original text, scripters Segaloff and de Lancie have fleshed out the enigmatic Griffin's character to provide him with a more intense backstory, highly charged motivation (curiosity plus revenge), and a more detailed set of personal relationships. Audio is used for narrative effect as never before, and fans of the book -- as well as those encountering the story for the first time -- should be pleased with what they hear.
As with "The Time Machine," "Journey to the Center of the Earth" and "The Lost World," The Invisible Man employed the skills of Jeff Howell as post-production supervisor and John Chominsky as editor and sound designer. Peter Erskine's music was recorded at Puck Productions in Santa Monica, California. It was produced by Alien Voices for Simon & Schuster Audio, a unit of Viacom, Inc.Alien Voices® is a registered trademark of Alien Voices, Inc.
The Invisible Man -- as are all Alien Voices audio tapes and compact discs -- is available in bookstores everywhere, as well as from Amazon.com, the Internet bookstore.
Of particular interest to fans, collectors and those wishing to give an unforgettable gift, Alien Voices titles are available specially autographed by Leonard Nimoy and John de Lancie.
---
You can order any of our titles, signed by Leonard Nimoy and John de Lancie. Click here! Order Signed Copies!
TO ORDER OUR SELECTIONS IMMEDIATELY from Amazon.com go to the appropriate link. Choose either the CD or the CASSETTE version of the title you want. Make sure to use your back arrow to come back here before ordering another title! Thank you for your order!
...Ask for Alien Voices®...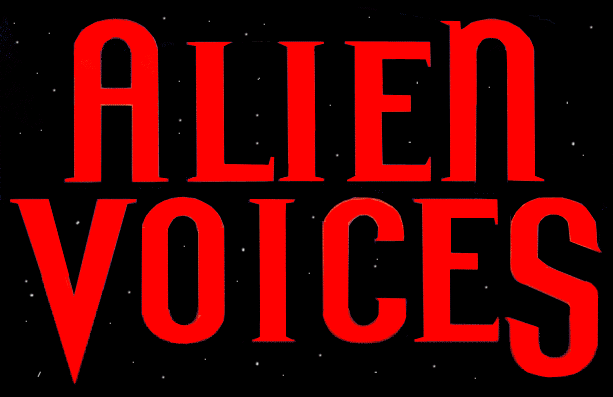 Back
---
Alien Voices® is a registered trademark of Alien Voices, Inc.
© Alien Voices, Inc., All Rights Reserved