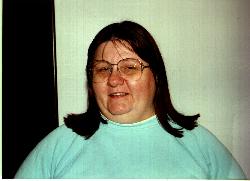 Listen to Mary's favorite song, My Girl by the Temptations!
Mary Jensen is a college graduate, a wife, a mother, an author, computer technician, web page designer and a very talented computer graphics and video artist.

My Background: I, then Mary E. Schiltz, graduated from Grandview Junior College in Des Moines, IA , in Physical Education in 1970 A.A. (Associate of Arts) and University of Northern Iowa in Physical Education in 1973 B.A. (Bachelors of Arts) with a Teaching Certificate and Coaching Certificate.

In 1971, I married Steve Jensen, a Police Officer on the Cedar Falls Police Department. In 1981, Steve and I had our only son, William (Bill) Jensen. We also have a Siamese cat named Missy.

In 1976, I researched and photographed the Iowa Great Lakes area, in order to write a book on the history of the Iowa Great Lakes. In 1976, I published the book, "A Centennial Cruise On the Iowa Great Lakes." In 1986, I revised my book, adding a 10 year update to the original book.
Currently my husband, Steve Jensen and I are the owners of Jensen Computer Consulting and Video Productions in Cedar Falls, Iowa. I offer a full line of computer services like: upgrading computers, adding hard drives, memory and CD Roms. We also set up new computers and instruct individuals how to use their PC computers. We are now offering our services in creating Internet Home Web Pages using HTLM, Java Scripting and GIF89 Animation. I also work in the field of Industrial Videos, T.V. Commercials and Animated Company Logos.
Today, I am a computer technician by trade. I like hooking people up to the Internet, writing animated 3D web pages like Alien Voices for Leonard Nimoy and John de Lancie and providing instructions on IBM compatible computers.

My hobbies vary from computers, to Beatles music. I am big Star Trek fan. Yes, I am a TREKKER. I am Captain of the U.S.S. CedarValley, NCC 1071. We have a local Star Trek Club. We love Star Trek. So if you like talking Trek checkout our page. My favorite actors are Patrick Stewart, DeForest Kelley, John de Lancie, Leonard Nimoy and Clayton Moore. For my tribute to Patrick Stewart, please click here, for my tribute to DeForest Kelley, please click here, for my tribute to John de Lancie please click here for my tribute to Leonard Nimoy please click here, for my tribute to the best Lone Ranger, Clayton Moore.

Send mail to me at Mary Jensen

Thank you for visiting my page!

The author is a member of




ALL RIGHTS RESERVED COPYRIGHT &copy 1999!
This home page created with Web 3D from Asymetrix.
For more information on Jensen Computer Consulting


Page designed by: Mary Jensen