A LETTER TO OUR FANS!
Dear Alien Voices Enthusiast,
Leonard Nimoy and I have received thousands of e-mails about Alien Voices. Those letters have been generous and enthusiastic about the work we are doing. Many ask questions about our company, and many offer suggestions as to which titles to produce next. I wish we could answer each letter individually (we even tried for awhile!) but that's impossible. The next best thing is this letter. At least we can address some of the questions most frequently asked and give you an idea of our future.
Q. When is the next Alien Voice's production?
A. This month on TV! October 25 (Sunday night) on the Sci-Fi Channel (check your local listing). The show is called, "The Halloween Trilogy." We are featuring three classic stories: "The Mark of the Beast" by Rudyard Kipling; "The Canterville Ghost" by Oscar Wilde; and "The Cask of Amontillado" by Edgar Allen Poe. It's our best show yet and we are very proud of it! Leonard and I are in the cast as well as Ms. Jean Simmons, Jeff Combs, Dwight Schultz, and Kurtwood Smith. It's a Halloween show that'll keep you spellbound.
Q. Are there other Alien Voices' audio productions coming out soon?
A. Yes! We have just finished a two hour audio adaptation of H.G. Wells' "The First Men in the Moon." It will be distributed by Simon & Schuster Audio and should be available for the holidays. Our other Alien Voices titles are: "The Time Machine," "Journey to the Center of the Earth," "The Lost World" and "The Invisible Man".
Q. How can I purchase Alien Voices' video tapes and/or audio tapes?
A. Video -- Rhino Home Video will be releasing the Sci-Fi Channel audios in January "The Lost World", "The First Men in the Moon" and "The Halloween Trilogy". Give them a call at 1-800-432-0020 if you want a copy.
Audio -- The fastest and least expensive way of purchasing our audio tapes is through the Alien Voices website Alien Voices. Or you can call 1-800-411-MIND (6463). Or you can ask your local bookstore.
Q. Have you ever thought of putting Alien Voices on the radio?
A. Yes! National Public Radio will be broadcasting our shows all across the country on Halloween and Thanksgiving of this year. Since NPR member stations have their own schedules, call the NPR station in your area and find out if they plan to air the shows, and when.
Q. How did Alien Voices get started?
A. Two years ago Leonard Nimoy, Nat Segaloff and I joined forces to create dramatizations of quality classic science fiction literature. Going back to the original stories, we realized how much the genre had changed over the years. We also realized how much the original works had been altered by people trying to "modernize" them. I hate to tell you but there is no goose named Gertrude in "A Journey to the Center of the Earth", nor is there an evil scientist who challenges Professor Lidenbrock's expedition. In Jules Verne's novel "Mysterious Island" there are no giant lizards, menacing bumble bees or overgrown chickens. Instead, there is a gripping adventure set in a threatening wilderness about men who believe that science and industry will make the world a better place for us all. In two years, we have written and produced ten dramatizations and we have hired our friends to perform them. Because of our rather obvious association with "Star Trek" and because of the many wonderful actors that have worked on that show we will never be at a loss for talent.
Q. Why radio? And...why radio on TV?!?!
A. We love radio because sound is a pathway straight to the imagination. In an age of dazzling visual effects, the mind still has the power to conjure the best scenery, the fastest space ships, and the prettiest women. It also has another power: it's personal. Each listener becomes his or her own director, designer, cinematographer and conductor. You, the listener, help make the story come alive -- and that's what makes our work so enjoyable. Why, then, do video? Because we think (and we've been told) that it's fascinating to watch and still the story still comes through loud and clear.
Q. What new titles are you think of producing?
A. We are thinking of dramatizing Jules Verne's "20,000 Leagues Under The Sea," "Mysterious Island" and "Robur the Conqueror"; and possibly Mary Shelley's "Frankenstein," just to name a few possibilities.
Q. What is the future of Alien Voices?
A. That's a hard one to answer because it depends on you -- the audience. We produce the shows, but we don't distribute them to stores. Simon & Schuster and The Sci-Fi Channel distribute Alien Voices audio and video, respectively. If the public purchases the audio books, and if the TV shows get good ratings, the distributors have a vested interest in continuing their association with us. We think Alien Voices produces quality programming. If you think so too, you can help us by writing or e-mailing Simon & Schuster at: Simon & Schuster E-Mail and the Sci-Fi Channel at Sci-Fi Channel E-mail to tell them how much you appreciate the shows and want them to continue. Be assured that your letters are read and taken very seriously.
I hope this answers some of your questions. We've been working hard at producing Alien Voices videos and audios, and in the future we will try and keep you updated in a more timely way. Thanks again for your interest in Alien Voices.
Sincerely,
John de Lancie
&
Leonard Nimoy
---
Alien Voices® is a registered trademark of Alien Voices®,Inc.
© Alien Voices, Inc., All Rights Reserved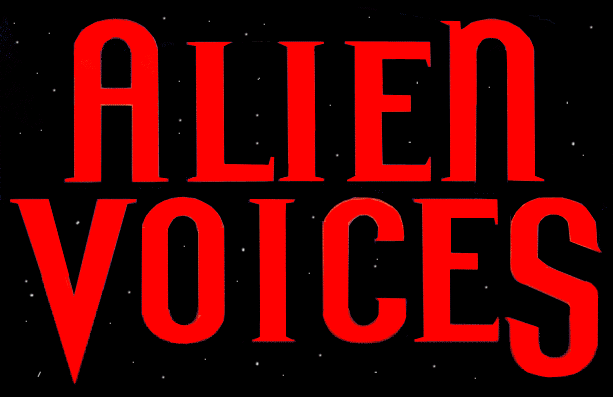 Back